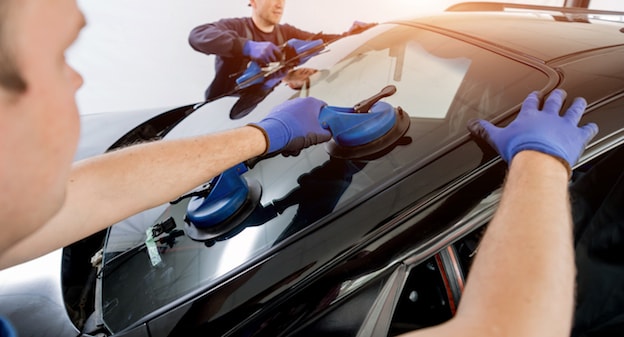 Schedule Service at Ourisman Jeep Bethesda
Is your Jeep in need of a windshield repair or replacement? If so, you will want to visit our Ourisman Jeep service center in Bethesda, MD, where our team is committed to keeping your vehicle safe and getting you back on the road in a timely manner. 
If the windshield of your Jeep happens to have any noticeable cracks or damage, it's important to have it repaired or replaced as soon as possible. Not only are these imperfections unsightly, but they can also prove to be dangerous to both you and your passengers. Luckily for you, the professionals at our Jeep service center near Chevy Chase can provide more information on windshield replacements and repairs and help you get the assistance you need to ensure your Jeep continues operating smoothly.
Why Is Maintaining My Windshield Important?
Apart from the obvious reason that your windshield protects you and your passengers from the open road ahead, your windshield also affects the overall functionality of your vehicle. When cracked or damaged, your windshield instantly becomes more susceptible to leakage, which could either result in water damage inside your vehicle or more importantly, could impact the factory seal that affects the deployment of your airbags. 
Your windshield also helps provide a clear view of your surroundings and it goes without saying, but visibility is a key component when it comes to safe driving. If your windshield is chipped, cracked, or has suffered any other damage, be sure to have your windshield repaired or replaced by our team of Jeep technicians. 
Schedule Jeep Service in Bethesda
If you would like to hear more about our Jeep windshield replacement and repair service or you would like to go ahead and schedule a Jeep service appointment for a time that is convenient for you, please feel free to contact us online or stop in to pay us a visit here at our Ourisman Jeep service center located at 5410 Butler Road in Bethesda, MD.
Our service department is open from 7 a.m. - 7 p.m. Monday through Friday, 8 a.m. - 4 p.m. on Saturday, 9 a.m. - 4 p.m. on Sundays, and we proudly serve Jeep drivers from Bethesda, Washington DC, Chevy Chase, Silver Spring, Rockville, Arlington, Potomac, Alexandria, and Rosyln!
Schedule Service at Ourisman Jeep Bethesda