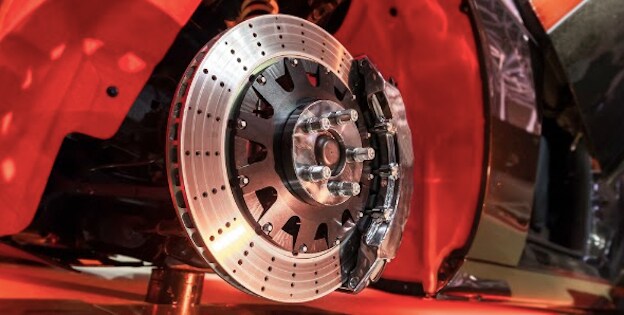 Is your Jeep in need of replacement brake rotors, pads, or a brake repair? Visit our Ourisman Jeep service center in Bethesda a visit!
Schedule Service at Ourisman Jeep Bethesda
Your brakes are without a doubt one of the most important safety features on your vehicle and for this reason, it is crucial that you don't neglect them. Keeping up with your vehicle's brake service and maintenance needs is essential when it comes to optimizing your Jeep's braking time and could play a major role in narrowly avoiding a collision or being the reason you're in one. 
Luckily for you, if you are unsure if your brakes are due for a replacement, our well-trained Jeep technicians can inspect your brakes and fill you in on their current condition. If it is determined that your Jeep's brakes are in fact in need of replacement or repair, you can leave it up to us to get the job done expeditiously and cost-effectively. 
Do Your Brakes Need to be Repaired or Replaced?
One of the great things about brakes is that as long as you know what to listen and look for, they will always give you warning signs before it's too late to replace, repair, or service them. Generally speaking, brake pads should be replaced every 50,000 miles, but driving habits, the environment you drive in, the hardness of brake pads, and the materials that make up the brake rotor are all factors that can either increase or decrease your brake life. 
To get a better understanding of whether or not your brakes are in proper working condition, here are a few things you should be looking for:
Brake Pad Thickness: You should be regularly taking a look to see how thick your brake pads are. Whenever you're getting your tires rotated or your oil changed, don't be afraid to ask us to take a look at your brake pads, as well.
Squealing or Scraping Noise: At the bottom of each brake pad, there are small metal hair-like bristles that make a squealing noise each time the brakes are engaged. These are designed to let you know when it's time to replace them, and they should not be ignored.
Schedule Jeep Service in Bethesda
If you're interested in hearing more about our Jeep brake services or you would like to go ahead and schedule a Jeep service appointment for a time that is convenient for you, please feel free to contact us online or visit us a visit here at our Ourisman Jeep service center located at 5410 Butler Road in Bethesda, MD.
We are open from 7 a.m. - 7 p.m. Monday through Friday, 8 a.m. - 4 p.m. on Saturday, 9 a.m. - 4 p.m. on Sundays, and we proudly serve Jeep motorists from Bethesda, Washington DC, Chevy Chase, Silver Spring, Rockville, Arlington, Potomac, Alexandria, and Rosyln!
Schedule Service at Ourisman Jeep Bethesda