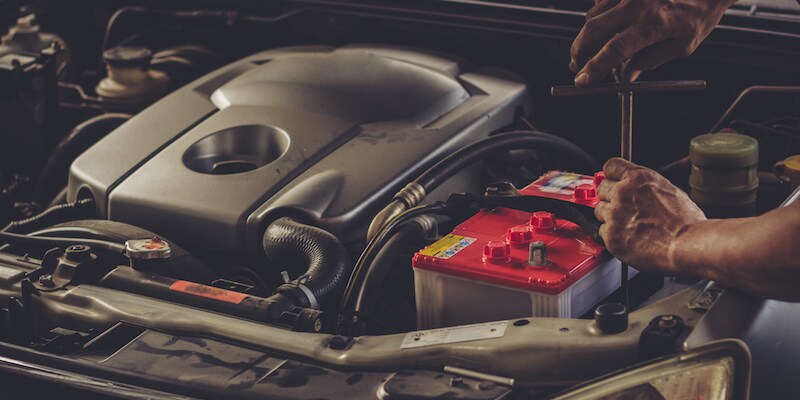 In need of a new Jeep battery in the Bethesda, Washington DC, Chevy Chase, Silver Spring, Rockville, Arlington, Potomac, Alexandria, or Rosyln area? Visit our Ourisman Jeep service center whenever it is most convenient for you!
Schedule Service at Ourisman Jeep
Is your Jeep struggling to start? Is there silence or a clicking sound when you turn the key or push the engine start button? If so, it could be an indication of a variety of issues, but if you suspect your Jeep's battery is at fault, the service team here at Ourisman Jeep is here to help.
When Should I Replace My Jeep's Battery?
Many factors such as old age, drastic changes in temperature, and corrosion all have negative impacts on your battery's lifespan, but in most cases, you can expect to get anywhere from three to four years out of your Jeep's battery. 
If you happen to notice any of the following signs, it may be an indication that your battery needs attention:
Slow Engine Crank: Does your Jeep's engine seem sluggish when attempting to start? This may be a sign that your battery needs to be replaced. 
Flicking or Dim Lights: Car batteries are often drained by leaving a light or another accessory on for an extended period of time or overnight. It's important to stay vigilant for flicking interior lights or dim headlights so you can avoid the possibility of being left stranded somewhere.
Pungent Odors: You should never smell strong or foul odors coming from your vehicle. If you do happen to notice a rotten egg smell, however, it is more than likely a battery leak, which will eventually lead to battery corrosion. If this is the case, be sure to have your battery inspected immediately!
Schedule Jeep Service in Bethesda
If you would like to hear more about our Jeep battery services, you're looking to purchase a new Jeep battery today, or you would like to schedule a Jeep service appointment to have our certified technicians install a new battery for you, please feel free to contact us online or visit us here at our Ourisman Jeep service center. 
We're conveniently located at 5410 Butler Road in Bethesda, MD and our service department is open from 7 a.m. - 7 p.m. Monday through Friday, 8 a.m. - 4 p.m. on Saturday, 9 a.m. - 4 p.m. on Sundays!
Schedule Service at Ourisman Jeep