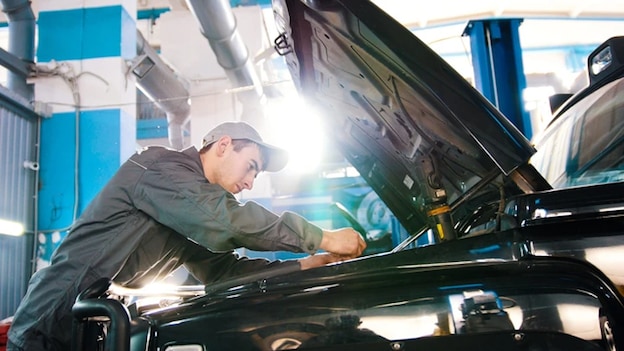 Schedule Service
It's an age-old myth that going to an independent auto garage will get you the cheapest car service but realistically, franchise dealerships such as Ourisman Jeep can provide competitive service prices by using genuine auto parts that are manufactured specifically to correspond with your vehicle.
Schedule Jeep Service at Ourisman Jeep in Bethesda
Sure, Bethesda area drivers have a number of options when it comes to getting their Jeep serviced but here at our Ourisman Jeep service center, we provide the ideal combination of customer service, technical expertise, convenience, and last but not least, discounted pricing. So, what allows our service center to separate from the rest of the pack? Allow us to break down some of the reasons why you should choose us next time your Jeep is in need of maintenance or repair. 
Specialization
First things first, the technicians at our Jeep service center are certified specialists who are manufacturer-trained and work exclusively with Jeep models. Unlike independent garages, our service professionals specialize in servicing one brand of vehicles and one brand only; the Jeep brand. 
OEM Parts vs. Aftermarket Parts
Aftermarket parts from an independent dealer may initially cost less, but OEM (original equipment manufacturer) Jeep parts and accessories were designed for your vehicle, add value to the vehicle, and are often backed by factory warranties. Our franchise Jeep dealer uses only the most genuine OEM parts, which guarantees that they will fit your vehicle properly, and will function the way that they should. Unfortunately, if you opt to go with an independent service center, in an effort to save money and increase profit margins, they will likely install inferior aftermarket parts to those of a genuine OEM Jeep part, which could void your vehicle's warranty.
Service Under Warranty
Speaking of warranties, if your Jeep is still under a factory warranty, there are some potentially costly repairs that our dealership can cover partially, if not fully, depending on the terms of the warranty. Even if you have to pay for repairs outside the warranty period, we can back up our services with a service warranty or a manufacturer-backed extension (if your vehicle is still covered). Sure, small shops may be able to offer warranties on service or repairs, but they likely won't offer the same length of coverage or may cover only the parts or the labor, but not both. 
Learn More From Our Jeep Service Center in Bethesda
If you're interested in hearing more about why you should choose our Jeep service center, our Jeep service coupons, or you would like to go ahead and schedule a service appointment with us, please don't hesitate to contact us online or pay us a visit here at Ourisman Jeep in Bethesda, also serving Washington DC, Chevy Chase, Silver Spring, and Potomac area drivers.
 Schedule Service